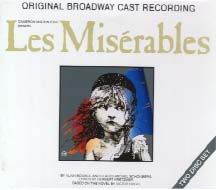 Music:
Claude-Michel Schönberg
Lyrics:
Alain Boublil (French lyrics)/Herbert Kretzmer (English adaptation)
Album Info:
Cast Albums
Buy:
Amazon
|
Barnes & Noble
Cast:
Jean Valjean: Colm Wilkinson
Javert: Terrence Mann
Fantine: Randy Graff
Cosette: Judy Kuhn
Marius: David Bryant
Eponine: Frances Ruffelle
Enjorlas: Michael Maguire
Wow. From reviewing cast albums that were from 1997, this one's a surprise to review a cast album from 1987 XD! This recording is still good for being 23 years old and has won a Grammy too (it beat the "Phantom" OLC recording at the time). To be honest, it's hard to pick a definite good recording of the show but for me, I keep coming back to this. This might have to do with the fact that this was the first recording I've heard.
Now to the actual review:
Colm Wilkinson is fantastic in almost everything he's on and the role of Jean Valjean made him synonymous with "Les Miserables". His "Who Am I" and "Bring Him Home" are very stellar. Terrence Mann is phenomenal as Javert and he is talented and has an amazing voice to boot too. David Bryant is not my favorite as Marius. Randy Graff as Fantine is very good and her "I Dreamed A Dream" is wonderful. I love Judy Kuhn as Cosette and pity when the show went to it's Broadway transfer, the song "I Saw Him Once" was removed and replaced with a longer version of "In My Life". I would have loved to hear Judy sing "I Saw Him Once". Frances Ruffelle as Eponine has a light and pure voice that is great for the role. Her version of "On My Own" is really nice and the duet with David Bryant in "A Little Fall Of Rain" is fantastic. Ohh better make mention of Michael Maguire as as Enjorlas, he's very strong and charismatic with a nice voice to boot. I can't choose between him and Anthony Warlow (The Complete Recording), since they're both good in their own way. Better make quick mention of Leo Burmester as Thenardier, he's incredible :D!
Overall, this is a great recording though a bit incomplete. Be aware that if you have the Vinyl, there is no "Overture/Work Song" and "Valjean Arrested/Valjean Forgiven" but instead begins with "At The End Of The Day". A remastered edition is available as a
highlights disc
.