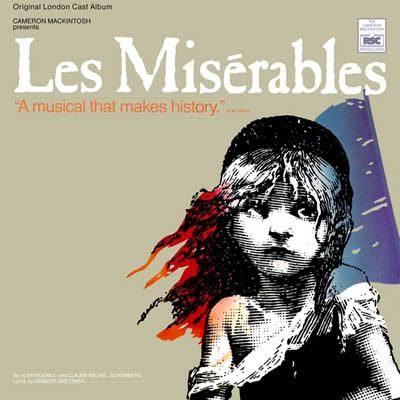 Music:
Claude-Michel Schönberg
Lyrics:
Alain Boublil (French lyrics)/Herbert Kretzmer (English adaptation)
Album Info:
Cast Albums
Buy:
Amazon
|
Barnes & Noble
Cast:
Jean Valjean: Colm Wilkinson
Javert: Roger Allam
Fantine: Patti LuPone
Cosette: Rebecca Caine
Marius: Michael Ball
Eponine: Frances Ruffelle
Enjorlas: David Burt
This one is a very good CD as one can not go wrong with Colm Wilkinson as Valjean since there's that freshness of his voice that still makes his performance incredible and Frances Ruffelle as Eponine. Michael Ball as Marius is AMAZING and very talented with his voice. Patti LuPone is amazing as Fantine and I pretty much enjoy her in everything she's done so she's a delight to listen to. She makes the role very sympathetic and heartwarming. Roger Allam is a good Javert but I'm very partial to Terrence Man (Original Broadway Cast) and Phillip Quast (Complete Symphonic Recording, 10th Anniversary Concert). Alun Armstrong is such a treat as Thenardier. I would listen to his "Master Of The House" anytime :D! Rebecca Caine is very lovely as Cosette and I loved "I Saw Him Once" in which was cut before the Broadway premiere. David Burt as Enjorlas is ok though not my favorite in the role sadly as far as Enjorlas' go.
Overall, the cast has a unique sense of freshness in their voices that it's very wonderful to hear the show in it's not-so-polished state. The orchestrations are rather slow on this recording and lacks the power of the other recordings sadly. You'll also get to hear some different lyrics to the song "Stars" in which has a different last line than the current version ("Scarce to be counted/Changing the chaos/To order and light/You are the sentinels..."), as well as the then mentioned "I Saw Him Once" and also the long version of "Little People" in which has very witty lyrics but was shortened before it's Broadway premiere.
There are 3 recordings of this show in which is the original release that has Patti's "Give me that letter back!" line on the song "At The End Of The Day" (this original release is out of print). The 1998 remaster (and it's 2004 repackaging in which is currently on sale), had a line added in which was mentioned on the original libretto but for some reason, it's gone on the original recording ("And the boss, he never knows/That the foreman's always on heat/And if Fantine doesn't look out/Watch how she goes/She'll be out on the street!"). This very recording omits Patti's "Give me that letter back" then goes into Colm's line "What is this shouting all about?".