Err...it was actually taped in 1989 but it does contain the 1987 Original Broadway Cast. LOL!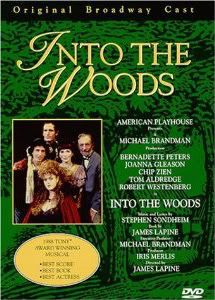 Music & Lyrics: Stephen Sondheim
DVD Info:
Cast Albums
Buy:
Barnes & Noble
|
Amazon
More information on the show can be found on this
synopsis
.
Hey! Long time no see everyone! I'm glad to be here in somewhat full form and maybe I'll get rolling on more reviews and stuff along the way in the near future.
Cast:
The Witch: Bernadette Peters
The Baker: Chip Zien
The Baker's Wife: Johanna Gleason
Narrator/Mysterious Man: Tom Aldredge
Red Riding Hood: Danielle Ferland
Wolf/Cinderella's Prince: Robert Westenberg
Rapunzel's Prince: Chuck Wagner
Cinderella: Kim Crosby
Jack: Ben Wright
Wow. That's all I can say about such a brilliant show. I'm glad that it preserved all of the original Broadway cast and the original staging. Seriously, this should be added to everyone's library. Sondheim is love. You can't get more intelligible than what I'm describing here so stick around and read this review.
Now to the review.
I think the cast is just *perfect* for the roles. Bernadette Peters is a
knockout
as the Witch. She nailed this role with shear brilliance and hilarity. Her voice is great from the rap to "Children Will Listen". Chip Zien as the Baker is good but everytime he's on, I keep thinking "OMG HOWARD THE DUCK! HOWARD THE DUCK!". Johanna Gleason is another one that is shear perfection as the Baker's Wife. You can see why she won a Tony for this role. This is the first time watching Kim Crosby and her Cinderella is nice. She's also very pretty too. She's great in "On The Steps of the Palace", "He's a Very Nice Prince" and "No One Is Alone". Danielle Ferland is good as Red Ridding Hood as well as Ben Wright as Jack. I think both of them played their parts well. Robert Westenberg is amazing as the Wolf as well as Cinderella's Prince. That scene with him and Cinderella in act two is solid as well as the 2 duets with Chuck Wagner. Speaking of Chuck, he's brilliant in everything he's on and
Into the Woods
is no exception. His role as Rapunzel's Prince is quite great (especially in the then-mentioned duet with Robert Westenberg). Tom Aldredge as the Narrator is really good (love the comedic bits as well), along with his role as the Mysterious Man. *edit* This just in: Tom Aldredge passed away recently on July 22, 2011. Very sad indeed.
This is one show in which I think has the best set/lighting and costume designs, though the design of the Wolf's costume really surprised me quite a lot (it's one of those 'you have to see in order to understand what I'm talking about' moments). The revolving stage made me gasp in awe as well. Once again, I'll say grab this video whenever you have the chance. You'll love it.