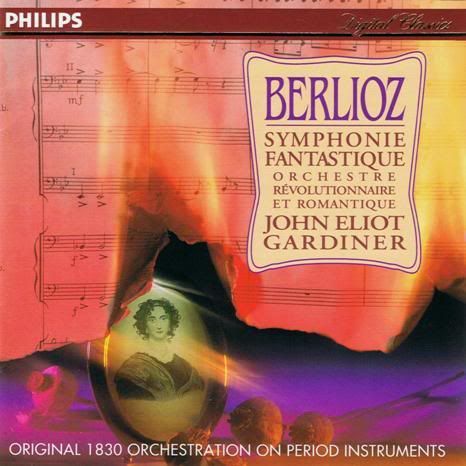 Conductor:
John Eliot Gardiner
Orchestra:
Orchestre Revolutionnaire et Romantique
Buy:
Amazon
For a complete outline of the symphony, go
here
Written in 1827 as sort of a symphonic love poem to an actress named Harriet Smithson, this is the definitive recording that is really one of a kind. Many people would tell you that this is the recording to get if you're looking for one recording of Symphonie Fantastique. As the cover says, it uses period instruments such as the
serpent
and the
ophicleide
in which makes the 5th movement more haunting. Gardiner's conducting is incredible as well as the ORR. Listen to the 2nd, 4th and of course, the 5th movements to witness such incredible power the orchestra has (even by 1993 standards, the recording still holds up).
Definitely be on the lookout for this recording because I highly recommend it.