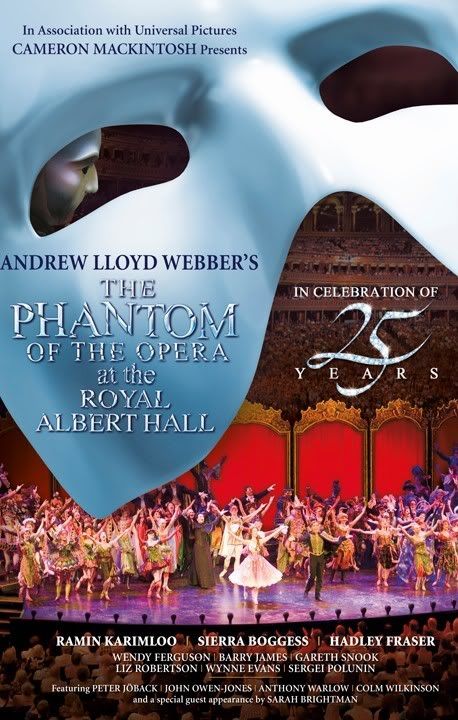 Music: Andrew Lloyd Webber
Lyrics: Richard Stilgoe and Charles Hart
DVD Info:
Cast Albums
Buy The Video:
Barnes & Noble (Blu-Ray)
|
Amazon (Blu-Ray)
|
Barnes & Noble (DVD w/ exclusive replica of the booklet from the Royal Albert Hall peformance)
|
Amazon (DVD)
Buy The CD:
Barnes & Noble
|
Amazon
Disregard the fact that I've been postponing this review for months now, hehe. It finally aired on PBS via their
Great Performances
series and I couldn't be ever so happier! :D The cast is a mixed bag but I didn't care since I was enthralled by the whole thing, the Sarah Brightman performance (almost wrote OG performance...wrong fandom unless by OGs, it can mean the 5 opera ghosts of course), and overall everything else. See, I loved
Phantom
ever since I've listened to the tunes and got the cast recording around Christmastime of 2001. I'll also never forget seeing the Phantom tour around April 15, 2006 when it arrived at
The Musical Hall at Fair Park
. I can still remember being amazed by the costumes, the sets, John Cudia's Phantom and Marie Danver's Christine (I still remember her coming out the stage door with a lollipop in her mouth, LOL! She's such a wonderful person). If you never heard the show before, I suggest going to your local Barnes & Noble or Half-Price Books and pick up
the original London recording
(you can also get this
nifty box set
which also contains the
Love Never Dies
concept album plus other goodies) or sit back and read this review because I also highly recommend this concert! :D
Cast:
The Phantom - Ramin Karimloo
Christine Daaé - Sierra Boggess
Raoul, Vicomte de Chagny- Hadley Fraser
Carlotta Giudicelli - Wendy Ferguson
Madame Giry - Liz Robertson
Meg Giry - Daisy Maywood
Monsieur Richard Firmin - Barry James
Monsieur Gilles André - Gareth Snook
Ubaldo Piangi - Wynne Evans
What else can I say much about this concert? It's made of WIN! I was in love with the orchestrations and the sets. The sets used projections and screens to enhance the stage and uses Maria Björnson's original designs/costumes. There were cuts/changes to the score (it was literally a mash-up of Original London/Original Broadway lyrics). One example of a change is moving the whole "any relation to the violinist" part before
Think of Me
and having Christine say that the violinist is her father. I thought it was wonderful. There's also the trio at the Perros graveyard scene in which, to my knowledge, is only performed in London but cut when it transferred to Broadway, Canada and other productions (plus the movie) except Hungary.
Now to the cast! I thought that Ramin was an amazing Phantom and his chemistry with Sierra was like sparks of lightening. He was sweet, gentle and yet still fragile. You just want to hug the poor guy. It's also amazing to find out that Colm Wilkinson was his inspiration (he mentioned it in this PBS performance) and I thought that was sweet (especially when Colm said that Ramin's very talented). He's also has a wonderful voice to boot too and his
Music of the Night
surely doesn't disappoint as well as the chemistry with Sierra in
The Point of No Return
. Amazing actor and singer. Sierra Boggess is a really good Christine and is quite a lovely woman too. I loved how she was playing with that apple while having this very flirty expression on her face during
The Point of No Return
(it has to be seen to be believed). She's also amazing in
Think of Me
. Loved her in this role. To be honest, Hadley Fraiser's Raoul, I have rather mixed feelings about. There are times he's okay and times that he's just a bit too angry at times. I loved Wynne Evans and Wendy Ferguson as Piangi and Carlotta respectfully. Such pure delight and hilarity from them. They were nearly chewing up the scenery as soon as they were on (loved how it looked as if Carlotta was a flirt with that Hannibal slave master)! Speaking of scenery chewing, I thought Gareth Snook and Barry James (the Complete Symphonic Recording Thenardier from
Les Miserables
) were amazing as the managers. Liz Robertson was also good as Madame Giry. You had a sense that she knows what's going on behind the scenes and had an aura of scariness with the character. Usually I'm not too fond of Megs but I've thought Daisy Maywood was good as far as Megs go.
The finale was spectacular. The part with the obituaries to Steve Barton, Mary Millar and John Aron (Raoul, Madame Giry and Piangi from the original London production) gets to me everytime. The way Andrew Lloyd Webber called his ex-wife Sarah Brightman his "Angel of Music" gets to me as well. It was so sweet ♥. Sarah, the original Christine, gets to sing
The Phantom of the Opera
with Anthony Warlow (original Australian production/original Australian revival Phantom), John Owen-Jones (London Phantom), Colm Wilkinson (original Sydmonton workshop/original Canadian Phantom) and Peter Jöback (current London Phantom), along with
The Music of the Night
with Ramin joining in. Michael Crawford was there but saddened that he didn't get to sing along except for the 'night' part in
Music of the Night
at the end. I also loved how Ramin picked up Sierra at the end. It was very cute.
All and all, a recommended performance and a really wonderful anniversary gala that I believe should be watched over and over again. Hopefully it'll be on Netflix so that others would catch the chance to see this lavish and wonderful production.
Edit: at the time of writing, it wasn't on Netflix. Now it is.