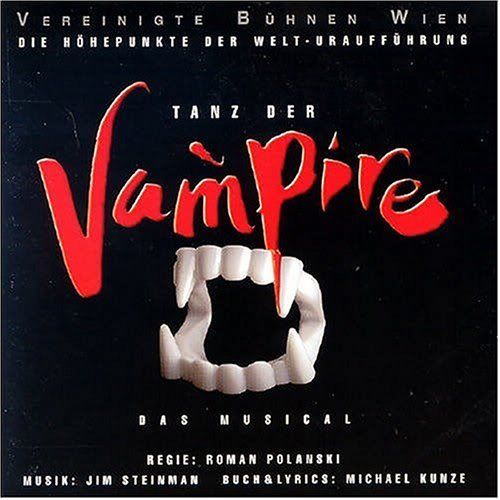 Music:
Jim Steinman
Lyrics:
Michael Kunze
Album Info:
Cast Albums Page
Buy:
Musical-Shop
|
Amazon
|
Sound Of Music
Cast:
Graf von Krolock: Steve Barton
Sarah: Cornelia Zenz
Alfred: Aris Sas
Professor Abronsious: Gernot Kranner
Herbert: Nik
Chagal: James Sbano
Rebecca: Anne Welte
Magda: Eva Maria Marold
More info on the original songs
here
and a complete synopsis
here
. Here is more information on the Roman Polaski
film
that it was based on.
Yay for the first review ever :D! I was thinking of starting with either the original Vienna cast recording of "Elisabeth" or the original London cast recording of "The Phantom of the Opera" but then "Tanz" decided to win so there was that LOL! I'm going to review the highlights recording for now and probably a more detailed review on the complete recording maybe XD? What can I say about this very musical that got me hooked to Foreign Musicals in the first place :D! I remember this recording very well in 2004 and what dawned on me was
the cast
. It's absolutely perfect and Steve Barton may live on to be Krolock for me and has inspired numerous interpretations of the role to come. His Krolock is powerful and seductive, all what the role should be. His "Die unstillbare Gier" is one of my favorites from him. Aris Sas as Alfred is wonderful to listen to and his "Für Sarah" is absolutely a must listen. He's also good on the duet with Cornelia Zenz in "Draussen ist Freiheit" as well as the number "Wenn Liebe in dir ist" with Nik. Nik is a good Herbert and can reach the high notes at the end of that song too. Gernot Kranner is very funny in "Wahrheit" but on this recording, he doesn't have much to do except his lines in "He, Ho Professor". Cornelia Zenz is a wonderful Sarah and the one powerful song she has is the one duet with Steve Barton and that is "Totale Finsternis" in which to those growing up around the 80s-early 90s would know that this is the very same song made famous in 1983 by
Bonnie Tyler
. James Sbano is a delight as Chagal and then comes Eva Maria Marold with a very powerful "Tot zu sein ist komisch". She too, has a wonderful voice. The other numbers like "Ewigkeit" is good as well as "Carpe Noctem". The original "Die roten Stiefel" is included here in which is changed for later productions except the Tokyo production in which this instrumental score is kept.
I was worried at first for not going to like it but after listening to this recording, it made me want to listen to the complete version back in 2004-2005. From there on, I loved the show and the rest, as scholars say, is history, ;). I believe if one could take the chance and listen to it, I'm sure that others won't regret how great this show is.