Err...it was actually taped in 1989 but it does contain the 1987 Original Broadway Cast. LOL!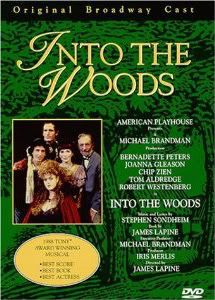 Music & Lyrics: Stephen Sondheim
DVD Info:
Cast Albums
Buy:
Barnes & Noble
|
Amazon
More information on the show can be found on this
synopsis
.
Hey! Long time no see everyone! I'm glad to be here in somewhat full form and maybe I'll get rolling on more reviews and stuff along the way in the near future.
Cast:
The Witch: Bernadette Peters
The Baker: Chip Zien
The Baker's Wife: Johanna Gleason
Narrator/Mysterious Man: Tom Aldredge
Red Riding Hood: Danielle Ferland
Wolf/Cinderella's Prince: Robert Westenberg
Rapunzel's Prince: Chuck Wagner
Cinderella: Kim Crosby
Jack: Ben Wright
Wow. That's all I can say about such a brilliant show. I'm glad that it preserved all of the original Broadway cast and the original staging. Seriously, this should be added to everyone's library. Sondheim is love. You can't get more intelligible than what I'm describing here so stick around and read this review.
Now to the review.
( Yes...Review! )